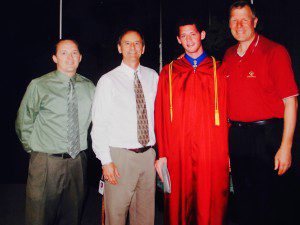 David had a passion for life and particularly the game of basketball. We have chosen to honor David's memory by recognizing other youth that possesses the same passion and spirit for life. David had an incredible work ethic both on and off the court. His enlarged heart was not just a physical ailment, and he had the capacity to love, serve and help others in need. He wore a smile each and every day, taking time to treat all with respect. He did not stress about the future but took advantage of living in the moment, getting the most out of life.
Today, we give you an opportunity to dream as David did. Reach for the stars and embrace life as it comes to you.
Good Luck to you in your future endeavors and we wish you all of God's graces as you pursue your own dreams.